Finding the best dog food for English Bulldog puppies can be a time-consuming and challenging endeavor. The proper nutritional fit for your dog will improve their overall quality of life while also assisting in the resolution of some health issues that are common in the breed. 
The number of options available on the market can be overpowering. Common questions about dog food concern the type of meat used, the nutritional content of each group (proteins, carbohydrates, and fat), and the presence of various vitamins, minerals, and other additives. This comparison of the best dog food for English bulldogs will assist you in determining which product is the best match for the specific requirements of your dog's nutritional needs and preferences.
| DOG FOOD | BRAND | EXPERT RATING | CHECK PRICE |
| --- | --- | --- | --- |
| | Large Breed Adult Dry Dog Food Iams | | Check Price |
| | Purina Pro Plan | | Check Price |
| | Health Puppy Dry Dog Food Iams Proactive | | Check Price |
| | Bulldog Food Royal Canin | | Check Price |
| | Puppy Dry Dog Food Nutrition Royal Canin | | Check Price |
---
The Most Appropriate Food to Feed An English Bulldog
When deciding whether or not a particular commercial dog food will meet the needs of your English bulldog, take into consideration the following characteristics of the food.
🍲 Proteins
Proteins are the building components of every dog food, including English bulldog chow. Fish, beef, chicken, and lamb as well as eggs, should be part of your English bulldog's diet. Look for raw meats, muscle meats, natural and filler-free meats.
🍲 Carbohydrates
When it comes to English bulldog nutrition, carbohydrates must be closely monitored. Foods high in bad carbohydrates or too sweet can cause allergic reactions, particularly soy, grains, wheat, or corn. It is also advisable to feed your dog twice daily in smaller amounts to keep his blood sugar levels stable and under control. Ideally, the best English bulldog food will avoid the wrong types of grains or will be completely devoid of grains altogether.
🍲 Fats
Food for your English Bulldog should be low in fat, ideally between 8 percent and 15 percent, to ensure a shiny coat and healthy skin while maintaining a healthy body weight for the breed. Keeping a healthy body weight is something that you should be concerned about throughout the life of your English Bulldog.
🍲 Vitamins and minerals
Vitamins, minerals, and other supplements are critical in improving the health of a dog who has a pre-existing medical condition. Certain dog foods for English bulldogs will stand out from the crowd because they contain vitamins and minerals that have been explicitly added to the food to address the breed's specific nutritional needs.
---
Best Dog Food for English Bulldog Puppies – Top 5 Picks!
🦴 OUR PICK
Best Dog Food for English Bulldog Puppies - OUR TOP PICK!
Product Name: Iams Large Breed Adult Dry Dog Food
Product Description: Iams Massive Breed Adult Dry Dog Food is made with only the highest quality ingredients to ensure that your English bulldog puppy grows up healthy. It contains a balanced diet that your dog requires for daily living as well as for future growth. It will also aid in the development of your Bulldog's physical fitness and overall health. Consequently, according to the experts, this is one of the best foods for an English bulldog puppy.
Brand: IAMS
Offer price: $$$
Availability: InStock
Summary
Chicken is the first ingredient in this dog food, and it is 100% natural. If you didn't know that your dog has a chicken allergy, it is best for your dog's health to avoid feeding your dog chicken. It will aid in the development of your puppy's strength.
This particular one has been specially formulated. And that is why it is effective in maintaining the health of your puppy's bones and joints. Furthermore, it will make them stronger than you expect, ensuring that your puppy grows up in good health.
It contains glucosamine and chondroitin sulfate, which are anti-inflammatory compounds. Both of these ingredients are particularly effective in the treatment of osteoarthritis. It will help you build strong muscles by providing you with high-quality lean protein. In addition, because it contains a blend of fiber and prebiotics, it will assist you in maintaining good digestive and immune health.
Highlights:
Glucosamine and chondroitin sulfate are both types of cartilage-building substances.

A combination of fiber and prebiotics helps to maintain good digestive and immune health.

Chicken is the first ingredient in this dog food, and it is the most important.

Bones and joints that are in good condition
🦴 RUNNERS UP
Purina Pro Plan Wet Dog Food
Purina Pro Plan Wet Dog Food are high in protein, which your English bulldog puppy requires. It has met all of the regulations for US facilities. So you won't have to be concerned about anything when it comes to this dog food. It will also ensure that your dog's specific requirements are met due to having this one. Food contains 80 different specialized formulas.
It contains a high concentration of high-quality protein. Real chicken is also the first ingredient in this recipe. As a result, you can say that your bulldog puppy would enjoy eating this dog food. It will also appeal to your dog's sense of style.
It contains EPA, which is an omega-3 fatty acid, and glucosamine, an amino acid. You will be able to keep your dog's joint health and mobility in good condition. To prevent your dog from suffering from any joint problems in the future.
It contains prebiotic fiber derived from wheat bran, which is a natural prebiotic. It will assist you in maintaining the digestive health of your English Bulldog. Also, make sure that your Bulldog can consume anything without difficulty.
🍲 Highlights:
EPA, an omega-3 fatty acid, and glucosamine are two essential nutrients.
There are 80 specialized formulas.
Maintain the health and mobility of your dog's joints.
Prebiotic fiber derived from wheat bran is a natural prebiotic fiber.
---
Iams Proactive Health Puppy Dry Dog Food
The first ingredient in Iams Proactive Health Puppy Dry Dog Food is natural, farm-raised chicken sourced from local farms. As a result, you can say that it will provide enough protein for your puppy to grow up perfectly healthy. The vast majority of veterans have also recommended this dog food for puppies. It is because it will help them to become healthier and more fit.
Food contains 22 essential nutrients that your puppy requires to develop correctly. It will be much simpler for your dog to maintain good health if you use this one. English bulldog puppies will benefit significantly from this particular dog food.
It contains the omega-3 fatty acid DHA, which is ideal for a puppy. It will promote healthy cognition, ensuring that you have more intelligent and more trainable puppies as a result. In addition, your puppy will be able to maintain a healthy diet on its own.
Because it contains high-quality protein, it will help you to build strong muscles. In addition, it will ensure that your puppy's specific wellness and nutritional requirements are met. This will ensure that there are no complications in the future.
🍲 Highlights:
There are 22 essential nutrients.
DHA is an omega-3 fatty acid.
Because it contains high-quality protein, it will help you to build stronger muscles.
Provides for the specific wellness and nutritional requirements of the client
---
Royal Canin Breed Health Nutrition Bulldog Food
Bulldog food from Royal Canin will meet all of the nutritional requirements of purebred Bulldogs. This is the safest and highly effective option for bulldog puppies, and they aren't sure what to feed them. It contains everything necessary to ensure that your Bulldog grows to his full potential without becoming overly complicated.
It is difficult for the puppy bulldog to consume his food. Since this dog food's kibble is made specifically for your dog, it will be much easier for you to get your dog to eat it without any issues. Your dog will be able to pick up and chew on the food without making anything complicated for himself or others.
Because it contains highly digestible proteins, precise fiber, and high-quality carbohydrate sources, it can aid in the reduction of gas and stool odor in your canine companion. As a result, you have nothing to be concerned about.
It can help strengthen the skin barrier of your Bulldog by providing essential nutrients that promote healthy skin and reduce wrinkles. This food will help to keep bones and joints healthy. It also contains EPA and DHA, which are beneficial for people with short and stocky bodies.
🍲 Highlights: 
Exclusive, custom-made kibble.
Highly digestible proteins, precise fiber, and high-quality carbohydrate sources are all critical.
Your Bulldog's skin barrier must strengthen.
EPA and DHA to support short and stocky bodies.
---
It is difficult for a puppy bulldog to swallow its food because it is so tiny. However, you will not have to worry about this issue if you feed your Bulldog Puppy Dry Dog Food from Royal Canin Breed Health Nutrition. Your puppy will easily be able to pick up the food and chew it thoroughly without any difficulty. Its kibble is made specifically for your dog.
This dog will meet all of the requirements for your bulldog puppy from the age of 8 weeks to 15 months. Purebred Bulldogs will benefit from this food because it meets their nutritional needs. As a result, you should have no trouble giving this one.
It will help protect your puppy's developing immune system and its natural defense mechanisms. With the addition of vitamin E, it contains an exclusive complex of antioxidants. Consequently, you can say that it will meet all of your dog's requirements.
With Royal Canin bulldog food, you can also help your puppy's digestion and intestinal flora by providing them with a nutritious diet. It will ensure that your puppy's bones and joints develop healthily. This will result in a well-balanced intake of energy. It also contains high-quality proteins as well as prebiotics (good bacteria).
🍲 Highlights:
Maintain the health of the immune system and natural defenses.
An exclusive antioxidant complex containing vitamin E is use in conjunction with this product.
Digestion and the flora of the intestine
Ideal for infants aged eight weeks to 15 months.
---
Nutritional Information and a Buyer's Guide
The English Bulldog is a well-known breed, not only because of its distinct appearance but also because of its charming demeanor and temperament. Although the English Bulldog has a distinctive appearance, it also has some specific nutritional requirements that you must consider as a caring owner. A regular diet is critical to keeping your pet healthy, so make sure you feed high-quality dog food for English bulldogs. The proper English bulldog diet can go a long way toward preventing health problems in your animal.
English Bulldog Diet
When a poor diet is combine with a lack of exercise, it can result in a fatty English bulldog and joint and respiratory problems. English bulldogs are also prone to allergies, particularly certain food additives and ingredients, which can be problematic. Any commercially available food made specifically for English bulldogs will not contain these ingredients, so keep an eye out for them when you're out shopping for your dog.
When it comes to selecting the best food for bulldog breeds, keep the following nutrition and buyer's guide in mind: Even though choosing the best food for English bulldogs is not complicated, you should devote some time and effort to ensuring that your dog's nutritional needs are met to provide their health and well-being.
It is well known that English bulldogs, in addition to being strong and muscular, tend to gain weight quickly if given incorrect nutrition. Providing your pet with the proper food for bulldog breeds will allow your pet to thrive, as well as provide your pet with the energy required for.
---
Finding the Most Appropriate Dog Food for an English Bulldog
💡 Select a Product of Superior Quality
Yes, budget is a consideration for every dog owner, but you should always purchase the highest quality food that you can afford for your pet. Good nutrition can make a significant difference in his overall health and well-being.
High-quality products will provide a well-balanced diet that includes meat sources, healthy carbohydrates, and fiber, as well as omega-3 fatty acids and vitamins and minerals.
Because the English Bulldog may be sensitive to harsher additives and preservatives, natural products are also a better choice for him than synthetic alternatives. Preservatives found in nature include rosemary oil, mixed tocopherols, and citric acid; keep an eye out for these.
💡 Examine the list of ingredients
Just because something is stated on a product label does not necessarily imply that it is 100 percent accurate in all cases. It's also possible that other relevant information has overlook. When a product label states, "made with real chicken," it is possible that the product is made with chicken byproducts, despite this being true. Alternatively, it could state that it is "chicken-free" while still listing chicken fat.
Instead of reading food labels, the best way to find the right food for your English Bulldog is to do your research and read the ingredients list.
💡 Always look for ingredients that are labeled
It is necessary to identify all meat sources. For example, if a product contains poultry meal, it should avoid by dogs with food sensitivities such as the Bulldog or Rottweiler. Various ingredients are include in the poultry category, and if your Bulldog is allergic to a particular element, you cannot be sure that it is not included.
Last but not least, there is no basis for why it should not identify, and it also suggests that the product is of lower quality if the brand is unable to determine its ingredients.
Furthermore, many people believe that meat meals do not provide a sufficient amount of protein. However, they are a fantastic source of protein and are high in fat and glucosamine, which is good for the joints.
💡 Omega-3 Fatty Acids
Although this guy can pack on the pounds quickly, omega fatty acids should not overlook. They are an essential part of his diet, as they promote joint health, brain, eye, and heart function, and keeping his skin healthy and supple, among other things.
In addition to having excessive rolls, the English Bulldog is known for suffering from various skin conditions. To nourish his skin, omega fatty acids must consume to reduce skin irritation and inflammation.
Take note of ingredients such as meat meals, fish oils, flaxseed, sunflower, chicken fat and canola oil. Omega-3 fatty acids also aid in the absorption of vitamins and minerals and the general well-being of the individual.
Docosahexaenoic acid (DHA) and arachidonic acid (AA) are also provided by the ingredients listed above, as well as egg products (ARA). In particular, when his body is growing, these are essential for maintaining healthy cognitive function and eye health during puppyhood.
💡 Consider Your Dog's Requirements
It is common among dog owners that just because veterinarians recommend something does not mean it is appropriate for their English Bulldog. This, however, is not always the case.
Consider your English Bulldog's requirements, and if he does not tolerate grains, look for a grain-free recipe to feed him. To provide him with a high fiber diet, look for kibble that contains at least 6 percent fiber. If you are ever in doubt, always consult with your veterinarian, who will be able to provide you with tailored advice.
Getting his nutrition right can help him stay healthy, and getting it wrong can cause him to become ill. While you may need to experiment with a few different kibbles before you find the right one for him, always listen to what his body is telling you.
💡 Dogs Sensitive digestion
The English Bulldog is known for having a sensitive digestive system, so it's essential to choose kibbles that are easy to digest for this breed of dog. Easy-to-digest kibbles include prebiotic fibers such as sweet potato, pumpkin, and dried chicory root, among their ingredients.
Additionally, probiotic ingredients such as lactobacillus acidophilus and casei fermentation products should sought after as well. These aid in the promotion of beneficial gut bacteria and the maintenance of regular digestion.
It is possible to reduce the odor of your English Bulldog's gas and poops if you provide him with the proper nutrition. This is because his digestive system has to underwork and produce fewer fumes. Yucca schidigera is a significant aspect to look for because research has shown that it helps to reduce the odor of canine waste.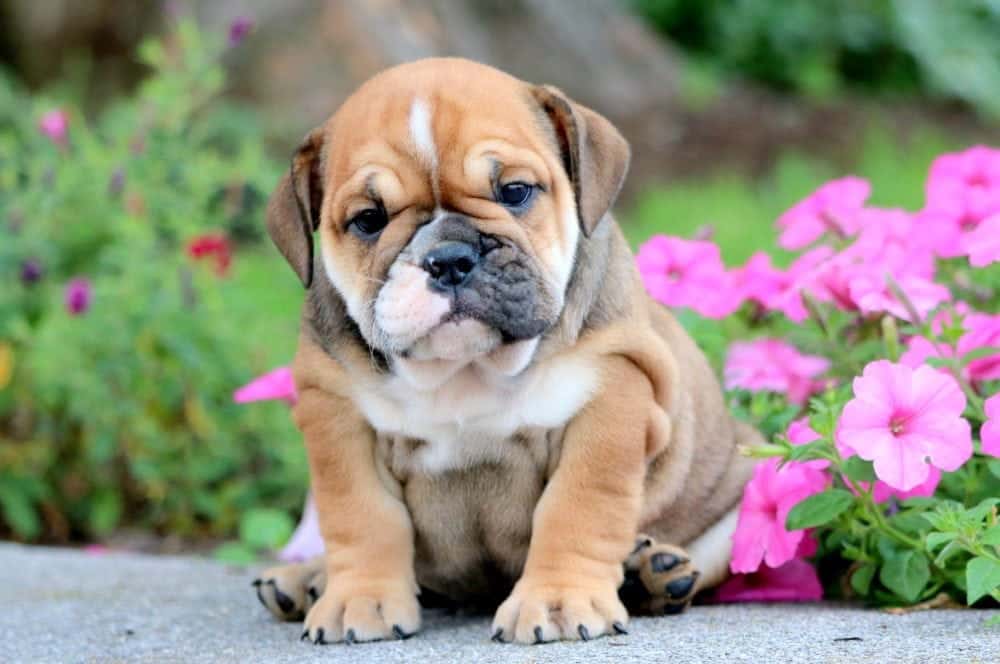 Although high-quality kibbles will never eliminate his gas, finding good kibbles can help to make it less smelly for everyone around him.
💡 Gain weight quickly
English Bulldogs are well-known for consuming a large amount of food while moving very little. So, unless your English Bulldog is exceptionally active, you should look for a kibble that contains a low amount of fat and calories.
To prevent your dog from gaining weight, either reduce the amount of food he consumes or switch him to a diet that promotes healthy eating habits. Weight management kibbles contain fewer calories and fats and a higher fiber content, which helps him stay satisfied for a more extended period.
---
English Bulldog Puppies Health Issues
English Bulldogs have know to suffer from a variety of health problems. These dogs are breed for a particular purpose, and that purpose was to hunt. Unfortunately, this resulted in the breed having a distinct body composition, which puts them at risk. A healthy diet can help you manage or even prevent many of these problems.
❎ Increase in body weight
These English Bulldog Puppies gain a lot of weight very quickly. They have low energy levels and don't engage in physical activities regularly. Owners must take an active role in maintaining their weight, including regular exercise and strict diet control.
To maintain their activity level, they require a calorie intake that is appropriate for their activity level and food that is low in bad carbohydrates. Because losing additional weight is extremely difficult for this breed, owners should watch their dog's weight to avoid an increase.
An adult dog should weigh between 50 and 60 pounds. Females should weigh approximately 45 pounds, whereas larger males can maintain a weight of 55 pounds while still being in good physical condition.
❎ Hip Dysplasia 
The different build of English Bulldogs is well-known throughout the world. They have a muscular body that is position low to the surface of the water. The majority of their body weight is concentrated around their stomach. This distribution of weight, combined with their bone structure, places a significant amount of stress on the hip joints.
The hips are not correctly align when you have this condition. It results in discomfort and a noticeable difference in the way the dog walks as a result. It is possible to manage the problem with glucosamine supplementation. The ingredient helps to maintain the health of the joints by strengthening them.
Dog foods with natural sources of glucosamine are becoming increasingly popular, and some are even design specifically to help dogs with hip dysplasia. It's a bright idea to look over the supplement's ingredients before taking it.
❎ Eyes Problems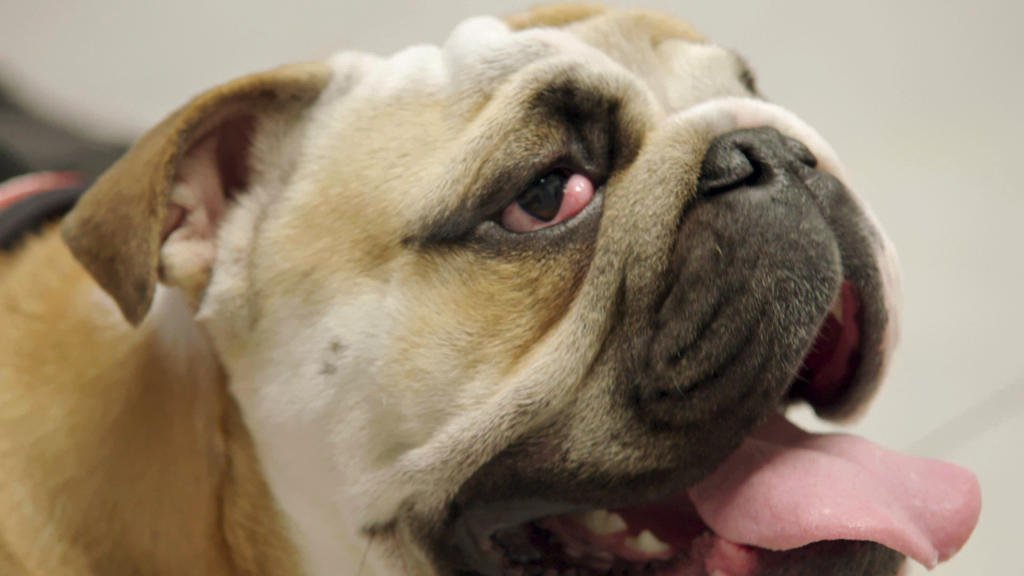 It is not uncommon for the breed to suffer from vision problems. Dogs can begin to lose their vision as early as six months of age. If this is the case, they may eventually lose their sight in one eye. Beta-carotene can aid in the prevention of eye problems. It has been shown to strengthen the eyes when consumed regularly.
Carrots and other orange vegetables, for example, contain the compound. By selecting a food containing beta-carotene-rich ingredients, pet owners can take a proactive approach to poor combat vision.
❎ Constipation
Yes, gas is an undesirable byproduct of a variety of foods. English Bulldogs are particularly prone to experiencing gastric distress. While it may appear to be a minor inconvenience, the bloating that occurs due to gas can be life-threatening.
This bloating, known as gastric torsion, puts pressure on the internal organs and blood vessels. As a result, breathing becomes difficult, and blood circulation to the heart becomes poor.
Dogs can succumb to their injuries in a matter of hours. Fortunately, this can avoid by feeding the dog several small meals throughout the day rather than one large meal at the end of the day.
Q: English bulldogs eat a variety of foods, but what is the best for them?
The best English bulldog food is one that is tailored to your dog's specific nutritional requirements. The following are the most critical considerations: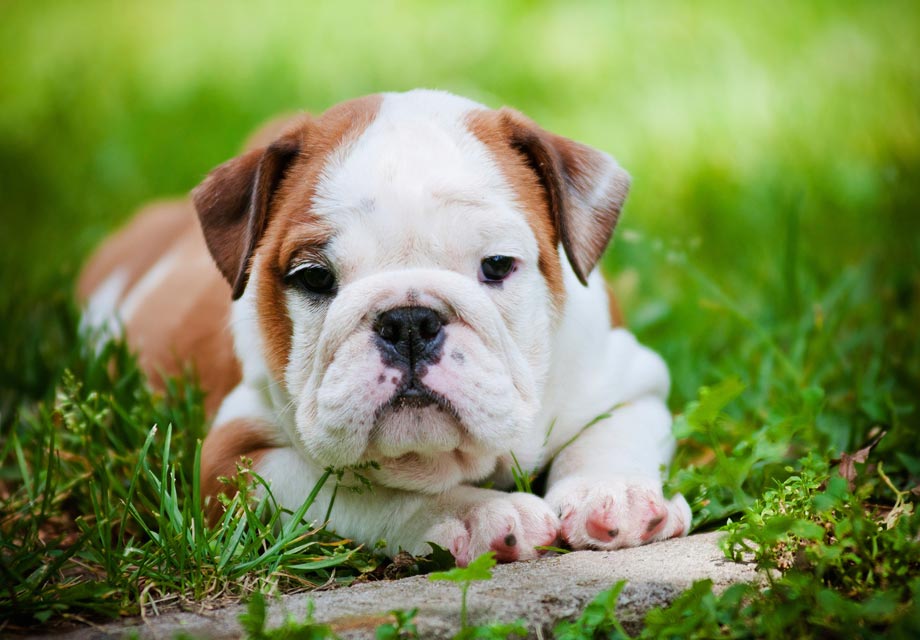 Age 
Level of activity
Health problems that could arise, such as allergies or other challenges
With this in mind, look for dog foods that are made with the highest-quality ingredients possible. Avoid using filler ingredients, which provide empty calories with little nutritional value and may contribute to food allergies in some people.
Maintain a healthy balance of proteins, fats, and carbohydrates in the recipe you feed your dog to keep him healthy while avoiding excessive weight gain, which is a common problem for English bulldogs. If your dog is experiencing any issues, try introducing a limited or grain-free diet to eliminate excessive carbohydrates and pinpoint the source of the problem.
Always consult your veterinarian before making any changes to your dog's diet, and make the changes gradually
Q: What should I feed my English bulldog puppy in terms of calories?
Puppies under 12 months of age have nutritional requirements that differ from those of adult dogs, and they should be fed as such. Compared to smaller dog breeds, large dog breeds such as English bulldogs mature more slowly.
Puppies should be fed three times a day from the time they are eight weeks old to six months old. After six months, you can switch to twice-daily dosing. The number of calories they should consume per pound of bodyweight should range from 20 to 70 calories per day, depending on their level of physical activity.
We do not recommend leaving your English bulldog's food out because they are food motivated and tend to gain weight quickly. Table scraps can include ingredients that are harmful to your dog, particularly a puppy's sensitive stomach. Table scraps should be avoided at all costs. Maintaining regular veterinarian appointments for your puppy will assist you in keeping track of their growth so that you can adjust their diet as needed.
---
Final Words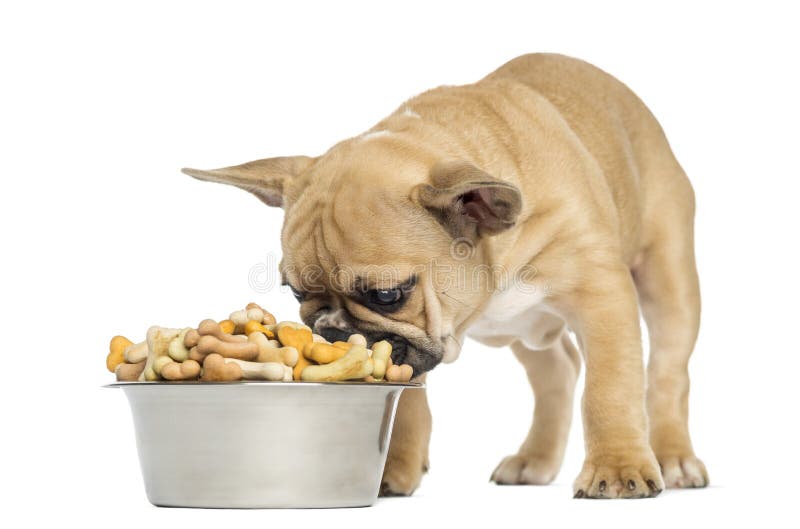 And there you have it! You need to know about what foods to feed your English Bulldog puppy and how to choose the best diet for him in one convenient location. We have discovered the very best dog food available on the market for English Bulldogs puppies, all of which have been thoroughly reviewed so that you can understand precisely why we have recommend them.
So, by selecting one of the products from our list above, you will be able to spend less time screening through hundreds of options and more time pampering your Bulldog best friend.
Taking care of your dog is essential, and this nutritional guide has something for every English Bulldog breed out there, which is excellent news!